The Climate Policy Litmus Test
By Willow Goode, LWVMD Administrative Coordinator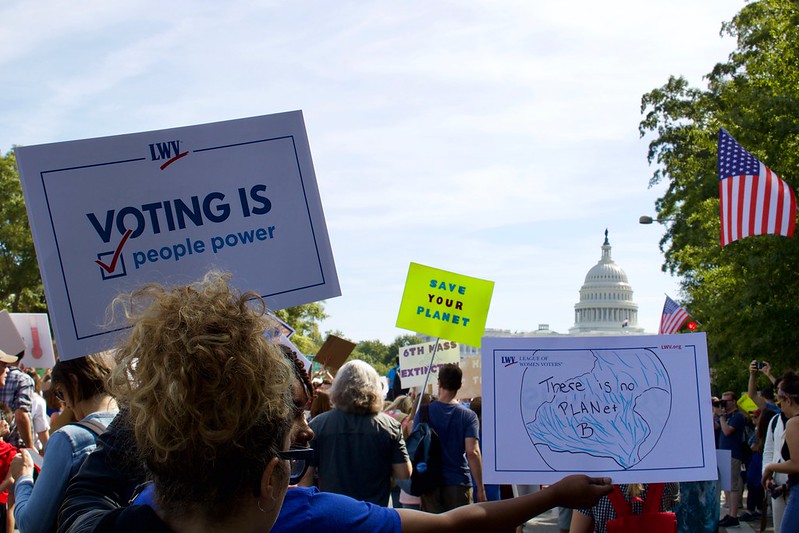 The League of Women Voters of Maryland is proud to be a partner of the Rebuild Maryland Coalition working to pass legislation that addresses both the climate crisis and the impact it has on our communities. This past Legislative session, LWVMD advocated on numerous environmental issues with a particular focus on how the growing climate crisis disproportionately impacts communities of color.
All Marylanders have a vested interest in the environment. Whether it be improving air quality, cleaning up the Chesapeake Bay, or protecting wetlands. We need to ensure that everyone has access to clean air and fresh water. We all must make environmental concerns part of a litmus test when considering which candidates we support and vote for.
Climate change impacts all of us. We have the power to help protect ourselves and our planet. With the primary election just around the corner (early voting starts Thursday, July 7th) it is now time to elect leaders who will make climate policy a priority.
We need representatives who will address the health disparities that many Marylanders face due to the impact of the changing climate. Unfortunately, our frontline communities which include people of color, people with disabilities, and people with limited income are often those most impacted by the harmful effects of climate change. This is why we need leaders who will address equity issues within the climate crisis to ensure that all Marylanders have the benefits of living in a healthy environment.
LWVMD wants leaders who will actively seek out relationships with community organizations that aim to address the impacts of our changing climate. We must give our support to candidates who are willing to invest in low-income areas and are not afraid to enact protections that safeguard the environment. Even when it might impact short-term bottom line income.
Democracy means that we, the people, hold the  power to elect people who will take our declining climate seriously and take actions to address it. Help our state and our world by using your vote to ensure climate change and its impacts are given the attention it clearly needs.  
Every year the League of Women Voters of Maryland is committed to ensuring all Marylanders have access to reliable, relevant, unbiased election information. We are proud to provide resources for everyone through VOTE411. VOTE411 is a "one-stop shop" for election information providing Maryland voters with simple, accessible tools to help them navigate the voting process. LWVMD offers voters a chance to read responses from every candidate who will be on the ballot. We encourage everyone to utilize this great resource to help make an informed decision on election day.  
LWVMD is always dedicated to defending democracy and empowering voters. We are proud to stand with the Rebuild Maryland Coalition to help advocate for equitable climate legislation.
Support the
Climate Crisis and Environmental Justice Act

and become a member of the Rebuild Maryland Coalition!